---
Real-time 3D engine, in Ada, based on OpenGL. Ada Programming. GL, VRML, 3D Studio Max, GMax.


Added multitexturing

GLOBE_3D stands for GL Object Based Engine for 3D.
GL stands for Graphics Library, created by SGI. SGI stands for Silicon Graphics, Inc. .
Short description: GLOBE_3D is a free, open-source, real-time 3D Engine written in Ada, based on OpenGL.
Videos:

Some click(s) of some
mouse button
to (re)play!

More videos on YouTube: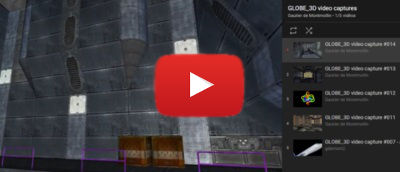 Screenshots:


Click images to enlarge

← ← click here for more screenshots!
Features:
unconditionally portable sources (one set of sources for all platforms)
real-time rendering; fast with a 3D hardware-accelerated graphics card
full eye movements and rotations
displays combinations of colours, materials, textures
transparency
multitexturing (diffuse + specular)
multiple area rendering with the portal technique, e.g. for inner scenes
collision detection
binary space partition (BSP)
input-output of 3D objects or groups of objects linked to each other by portals
easy management of resources like textures (.bmp, .tga, .jpg, .gif, .png), BSP trees and objects, stored in .zip files
screenshots (.bmp) and video captures (.avi)
multi-view support
vectorized geometry support
Goodies:
randomly extruded surface generator
Tools:
Export from Blender through Wavefront (.obj / .mtl) models and the o2g tool
VRML virtual world compiler, through the wrl2ada translator
GMax / 3D Studio Max scene exporter & compiler, through the max2ada translator
Compilation of game maps or levels from the Doom 3, Quake 4 or GTK Radiant level editors through the d3a (to Ada) translator or the d3g (to .g3d) tool.
Download:
The GLOBE_3D.zip archive contains:
a ready-to-run demo built for Windows
the tools mentioned above
fresh bindings to GL / OpenGL, GLU and FreeGLUT
a single, standalone and complete set of Ada sources, successfully built on the following system / cpu / compiler combinations:

| | | |
| --- | --- | --- |
| OS | CPU | Compiler |
| MS Windows 95,98,NT,2K,XP,Vista,7 | Intel x86 (32 bit) | GNU - GNAT |
| MS Windows 95,98,NT,2K,XP+ | Intel x86 (32 bit) | Aonix - ObjectAda |
| Linux | Intel x86 (32 bit) | GNU - GNAT |
| Linux on PS3 | Cell (64 bit) | GNU - GNAT |
| Mac OS X | PowerPC (64 bit) | GNU - GNAT |
| Mac OS X | Intel (64 bit) | GNU - GNAT |
| OpenBSD | (one of several) | GNU - GNAT |
For any other system, GLOBE_3D should work provided that the system supports (Open)GL and GLU.
Availability of FreeGLUT or OpenGLUT is needed for the demo.
I welcome your scripts, makefiles etc.

Source web pages automatically generated by gnathtml (GNAT).

Related projects:

Documentation:

Contact:


The author's blog can be read here.

For a little sponsoring...



For any news, change logs, support requests, update informations: visit the project on SourceForge!
Links: